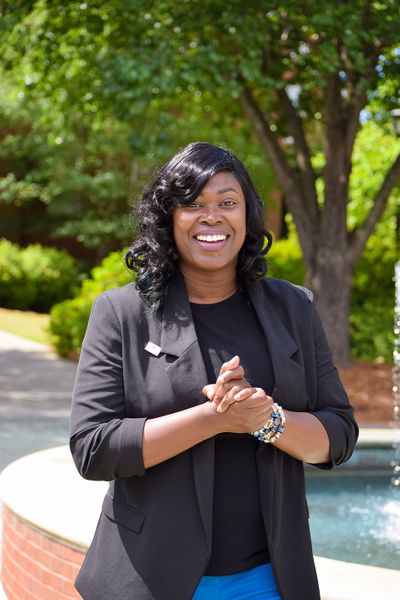 Nincoe Byrd
Nincoe Byrd is a Democratic candidate for Georgia State Representative for House District 145. A passionate public servant, community leader, and champion for our youth, Nincoe is the best choice to represent the communities of Baldwin and Putnam County.
Growing up, Nincoe learned the value of community and service from her beloved Grandfather, Chester Walker Senior. Through his guidance and mentorship, Nincoe worked to embody his mantra, "If you take care of people, people will take care of you."
At a young age, Nincoe made the active decision to live a life committed to service. At just 14 years old, Nincoe took on her first job to assist her single mother financially while balancing a rigorous curriculum at Baldwin High School.
Upon graduation, Nincoe made the honorable commitment to serve in a different capacity. She bravely accepted her nation's call to duty. In the summer of 1994, Nincoe enrolled in the world's greatest Army, the United States Army as a Signal Corps Soldier. She completed three permanent changes of the station to include Waegwam, South Korea, Fort Hood, Texas, and Fort Gordon, Georgia. She didn't waiver when called to deploy in support of this great nation to South America.
Upon her return to the United States, Nincoe continued a life of service. In 2002, Nincoe, now an Army Veteran, went back home and began serving her local community as a Baldwin County Detention Officer.
After the devastation of Hurricane Katrina in 2005, Nincoe was compelled to once again serve her nation and her community, this time as a full time "Citizen Soldier" in the Georgia Army National Guard. Nincoe went on to complete an additional 14 years as a Recruiting and Retention Non-Commissioned Officer, dedicating herself to the development of our youth, their future, and the future of her beloved local community.
This year, as Nincoe takes on a new form of service, she will also retire from another. After 20 plus years of service, commitment, and dedication, to the Georgia Army National Guard and the United States Army, Nincoe the decorated Army Soldier, Non Commission Officer, and Junior Leader mentor will officially retire in April 2020. However, as she hangs up one suit, she is prepared to dawn a new one.
Upon reflecting on how to continue serving her community and continue her advocacy against educational gaps, helping at-risk youth, and uplifting families in distress, Nincoe was encouraged to run for State Representative for House District 145.
Nincoe is committed to utilizing and advocating for government programs and policies that are favorable for citizens. She is a values and morals based community member, passionate about uplifting our community and making sure the government is transparent, trustworthy, and works for everyone. Her experience and vast commitment to service has led her to this stage in her life, now she is asking for the citizens of HD-145 to support her in this historic endeavor.
Nincoe Byrd is the candidate that will advocate for change; the change we need, and the service you want. Nincoe Byrd is the ideal candidate committed to working for and with the people to reform policies in Education, Employment, Health, Housing, Social Equality, Environmental Policies, and Justice Reforms. Nincoe will work for the betterment of the community and the betterment of all people.
Nincoe Byrd is YOUR candidate for the Georgia State Representative for House District 145; leading the reform you desperately desire in our community. Nincoe Byrd has proven herself to be, "The Leader that takes care of People".
Nincoe is married to Michael Francis and together they have two treasured sons. Together Nincoe and her family enjoy traveling and participating in recreational sports. Aside from her work and responsibilities, Nincoe founded a social organization called Women of Purpose, a group formed for women to promote sisterhood by building stronger families and communities while having fun.